Membership Terms of Service of Zhonggeng Hotel
A. Confirmation of membership
You can register through the official website, Wechat Mall and other hotel channels. Once registered successfully, it means that you have agreed to become a member of Zhonggeng Hotel, and read the following terms and conditions and future amendments. If you want to cancel the hotel membership, you can also contact any hotel under the group to withdraw from the membership application. If you fail to comply with the terms of this membership, the hotel may unilaterally cancel the relevant membership.
When a member registers, only the mobile phone number is provided, then the mobile phone number will become the only identification of the membership certification, and cannot be changed at will.
When a member registers, he or she provides his or her mobile phone number and identity card information. Then the member can change his or her mobile phone number according to the procedure specified by the system through the verification of his or her identity card.
B. Membership Services
The hotel will provide convenient internet, Wechat and other booking services for its members. Members are required to provide information required by the hotel during the booking process. However, hotels do not guarantee booking errors due to Internet transmission failure or third-party reasons or incomplete booking information.
For all payment matters in the booking process, the hotel will be handled in accordance with the relevant national regulations and hotel rules.
C. Membership Privacy System
Zhonggeng Hotel will spare no effort to protect the privacy of all its members and will not disclose, edit or disclose the members information and their consumption records to the public unless it deems it necessary on the basis of good faith in accordance with the requirements of legal permission or in the opinion of Zhonggeng Hotel, including, but not limited to, the following circumstances:
1. Compliance with the relevant provisions of the law
2. Compliance with members' legal service procedures
3. To safeguard the legitimate rights and interests of hotels.
4. Authorized third parties, including but not limited to customer-bound third-party payment companies, companies providing software services, etc.
D. Terms of Service
1. Zhonggeng Hotel will provide booking service for its members through its own operating system. Members can complete booking through their own PC, mobile phone and other devices. During the booking process, members must:
1) To bear the costs incurred by the communication.
2) Providing accurate and detailed personal data in a timely manner.
2. After successful membership registration, Zhonggeng Hotel will provide customers with membership accounts and passwords. Members should take proper care of their accounts, and be responsible for all activities and events of their accounts. All losses caused by improper custody will be borne by members themselves.
3. Members can publish information on the hotel's official website and other channels, and assume responsibility for all information. Members are required to abide by relevant national regulations, including but not limited to Internet regulations. Members shall undertake not to publish any illegal, harassing, slanderous, abusive, intimidating, vulgar or obscene information, or any information that incites others to commit crimes, involves national security or attacks on the government. Once found, Zhonggeng Hotel will have the right to delete and cancel its membership account, and pursue all the losses caused to the hotel by its members.
4. Zhonggeng Hotel can send information to its members by mail and official announcement, informing them about the modification, change or other important matters of service terms. The content of all information is protected by copyright, trademark, label, and other property ownership laws. Members can only use it under the authorization of the hotel. They are not allowed to copy, reproduce or create dispatched products related to the content without authorization.
5. Zhonggeng Hotel recognizes that membership obtained through official channels issued by the government is not allowed to resell its membership account. Members promise to provide their membership rights (including but not limited to discounts, gifts and preferences) to other subjects (individuals, companies, enterprises and units) in any way (including but not limited to sales and subscriptions) without profit-making purposes. Otherwise, Zhonggeng Liquor? will not be allowed to resell its membership account. Shops have the right to take immediate member restrictions (including, but not limited to, suspension of membership rights, termination of membership rights, disqualification) and retain the right to pursue their legal responsibilities.
E. Points Award Scheme
Zhonggeng Hotel will provide bonus points and various discounts for members 'room and catering consumption. Specific incentive schemes and preferences will be divided into four memberships according to members 'consumption bills: silver card membership, gold card membership, platinum membership and black diamond membership.
1. Integral table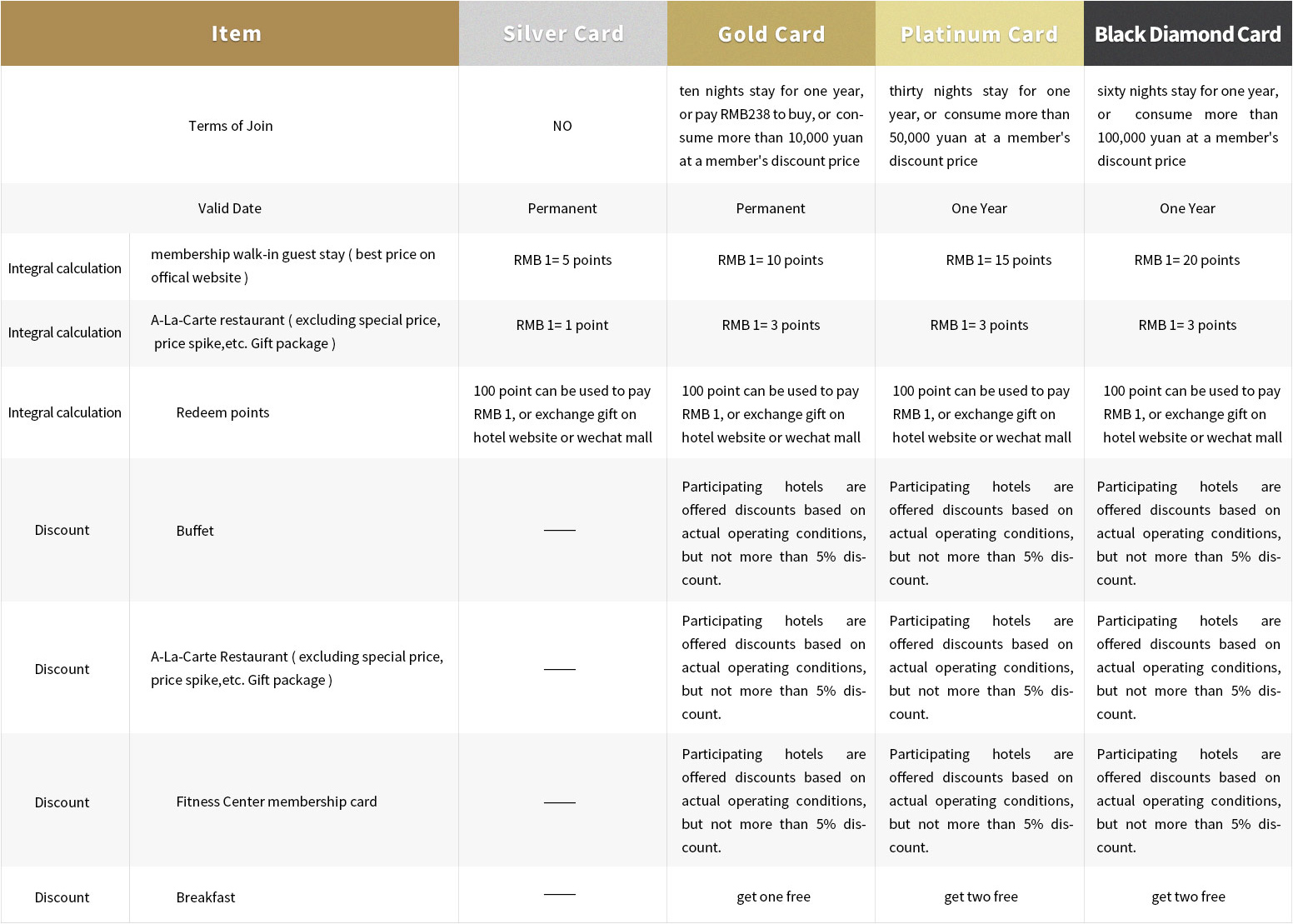 One year of membership conditions refers to 365 days from the date of membership registration or membership promotion. All consumption amounts of the member are denominated in Renminbi. For calculating integrals in the table above, please refer to the instructions and policies for calculating integrals.
2. Explanation of Earning Integral Calculations
1) Members participating in the scheme are eligible to earn points for their own rooms and up to two other rooms. Among them, the room price must be reserved at the member's price and one of them must be registered as the member himself, and all room charges must be paid by the member, and the member must request payment when the hotel is registered and checked in. Members are also required to stay in one of the rooms. To ensure that points are automatically credited to the correct membership account, members must indicate their membership account of the membership incentive scheme on their room bills and bills for up to two rooms (if applicable).
Members are eligible to earn points for their own catering consumption, which is limited to their consumption at the price of the members, but does not include the consumption of set meals and special promotions. Members are required to provide their membership accounts when checking out.
2) All eligible consumptions need to be calculated after deducting taxes and fees.
3) Only points earned by members themselves can be credited to their member accounts. If two members share a room, the points earned can only be credited to one of them.
4) Points are limited to members who consume at preferential prices and are calculated and accumulated by members who pay independently. Among them, the preferential price of guest rooms is the best price on the official website, and the price of restaurant consumption is the price of member discount according to the price on the restaurant menu. The following consumption is not rewarded by points:
Including, but not limited to, agreed rooms, meeting or team rooms, banquet consumption, third party booking, family and friends housing prices, employee housing prices, points payment consumption, convertible accommodation, special promotional product consumption
5) Reservations that are not booked are not eligible to earn points even if they are paid in full.
3. Earning Points Policy
1) Members should abide by the membership policy of Zhonggeng Hotel. The company can adjust these rules and revise the calculation standard at any time without notice. To the maximum extent permitted by applicable laws and regulations, the company has independent jurisdiction over the interpretation and scope of application of "calculation standards".
2) Each member should carefully read the calculation standards and calculation instructions and their revised regulations, as well as the consumption bills provided to members, so as to understand their rights, responsibilities and status in the membership reward plan and the rules for earning membership rewards.
3) To the maximum extent permitted by applicable laws and regulations, the company has the right to modify, cancel or restrict the contents of membership rewards on its own without issuing announcements. The company can substantially increase the reward points needed to exchange any member's reward, recover any member's reward, and at any time limit any member's reward or its exchange service. You can add an inapplicable date and adjust the exchange standard.
4) In addition, the company has the right to terminate the membership incentive scheme with a written notice to its members six months in advance. In this case, regardless of the extent of membership participation, the right to earn points and exchange membership awards will be terminated six months after the announcement is issued. If applicable, under any jurisdiction, the company may terminate all or part of its membership incentive scheme in advance.
5) Points Effective Date Policy: Members must maintain the active status of the membership reward program in order to retain the accumulated points. If a member is inactive for 24 consecutive months, all accumulated points will be cleared. Except in the following cases, members only need to earn at least one membership incentive program score within 24 months, or exchange one membership incentive program score, to maintain the active status of the membership incentive program, and retain the accumulated points.
If the member is inactive for five consecutive years, the member account will be cancelled. The points will not be recovered after they are cleared, but members can continue to earn new points unless their account has been cancelled.
Not all points activities can help you keep your membership reward program active Status. The following activities will not help you keep your membership reward program active:
● Giving or transferring points; however, converting points into gifts can help you stay active
● Acceptance of points for gifts or transfers
● Earning points through social media programs
● Account transfer points. Note that after transferring points across accounts, transfers occur the period of validity of the points transferred to the account is applicable.
6) Points earned by participating in membership incentive schemes and membership incentives may be taxed. Any tax liability (including information disclosure) related to the acceptance or use of membership Award Scheme points, mileage or membership awards shall be borne by members alone.
7) The company reserves the right to reject applications for membership, unilaterally abolish, cancel or suspend membership of the membership incentive scheme at any time, honorable membership grades (including permanent silver card membership, permanent gold card membership and permanent platinum card membership), membership incentives and/or any or all non-convertible membership bonus points or other actions if it considers that there are the following circumstances. It is effective without written notice: (1) violating membership policy; (2) failing to pay any bills or accounts due on time; (3) its actions are inconsistent with applicable laws, regulations or regulations; (4) abuse, fraud, improper or malicious acts related to hotels or their guests or employees or companies or their employees participating in the plan;
8) Nothing in the bonus scheme restricts the company from exercising its support some have legal rights or seek remedies.
9) In case of conflict with the law, the exchange of membership incentive scheme, integral incentive and membership incentive scheme gift certificates will automatically expire.
10) During business travel, members shall comply with the relevant travel plan policies of their company. Information about the bonus points accumulated by members during their business trips shall be disclosed to the company in which the members belong.
11) All members 'consumption points shall be credited to the member account within 24 hours after the consumption is settled.
12) Integral Transfer
Between two reputable member accounts, the transfer of up to 200,000 points per calendar year can be authorized to the member accounts of friends or relatives. Members agree to pay the handling fee to Zhonggeng Hotel at 10% of the transfer points (i.e. 10% of the transfer points and 90% of the transfer points are transferred to the member account of the acceptor of the points). Once the transfer authorization is accepted or processed, the transferor will relinquish all rights of the transferred integral, which will become the recipient's integral and cannot be cancelled.
13) Members have doubts about their consumption points. They can call the service centers of Zhonggeng Hotel in Shanghai or Fuzhou within 30 days to apply for a review. The hotel will review it within one week. Once the calculation is wrong, it will be adjusted in time.
4. Integral Exchange
The membership award scheme is a voluntary scheme for members. Members agree that the Zhonggeng Hotel will not be liable for any injuries caused by members 'participation in the scheme, and for injuries caused by third-party or force majeure factors to members. On this basis, members can enjoy the following rights and interests by obtaining points:
1) Accumulated points can be used to pay the hotel's consumption according to the rule that 100 points are equal to RMB 1.
2) Accumulated points can be used to exchange gifts (including Hotel products) provided by the hotel on the hotel's official website or Wechat Mall.
F. Membership Electronic Exchange Certificate
Zhonggeng Hotel will provide a wide range of electronic exchange vouchers to its members, including free coupons or valuable consumption vouchers. The use of all kinds of exchange vouchers should comply with the following provisions:
1) All exchange vouchers are only used for consumption at designated places and on designated dates according to the rules specified in the exchange vouchers, and shall not be used for cash exchange.
2) Members should book in advance before using the coupon for consumption, and go to the hotel for consumption after being confirmed by the hotel. Otherwise, the hotel has the right to refuse the consumption of unreserved customers according to its own reception.
3) Members should show to hotel staff (including two-dimensional code of electronic vouchers) on their own initiative before consumption.
4) Consumption beyond the scope of voucher consumption shall be paid separately by members.
5) All free coupons cannot be used for business transactions. Once found out, the hotel has the right to cancel them.
The right to interpret the above terms is vested in Zhonggeng Hotel Management Company.